{"id":9994829193,"title":"ACS ACR1252U USB NFC Reader III (NFC Forum Certified Reader)","handle":"acr1252u-usb-nfc-reader-iii-nfc-forum-certified-reader","description":"The ACR1252U USB NFC Reader III is an NFC Forum-certified PC-linked reader, developed based on 13.56Mhz contactless technology. It has a SAM (Secure Access Module) slot which can be used together with a SAM card for key diversification and mutual authentication, providing high-level security in contactless transactions. Post-deployment firmware upgrade is also supported, eliminating the need for additional hardware modification.\n\u003ch4\u003eACS ACR1252U USB NFC Reader III (NFC Forum Certified Reader)\u003c\/h4\u003e\n\u003cp\u003eACR1252U is capable of the three modes of NFC, namely: card reader\/writer, card emulation and peer-to-peer communication. It supports ISO 14443 Type A and B cards, MIFARE®, FeliCa, and ISO 18092–compliant NFC tags. It also supports other NFC devices with an access speed of up to 424 Kbps and proximity operating distance of up to 50mm (depending on tag type used).\u003cbr\u003e\u003cbr\u003eCompliant with both CCID and PC\/SC, this plug-and-play USB NFC device allows interoperability with different devices and applications. It is thus ideal for unconventional marketing and advertising applications like smart posters.\u003cbr\u003e\u003cbr\u003eThe ACR1252U comes with an optional stand to hold the smart card reader at an optimal angle, so that users can tap contactless cards or NFC-enabled devices onto the ACR1252U with ease.\u003c\/p\u003e\n\u003cp\u003e\u003cimg style=\"display: block; margin-left: auto; margin-right: auto;\" src=\"http:\/\/www.acs.com.hk\/downloads\/images\/pages\/ACR1252-M1_250x250_left_app.png\" alt=\"ACR1252-M1_250x250_left_app\"\u003e\u003cbr\u003e\u003cstrong\u003eFeatures\u003c\/strong\u003e\u003c\/p\u003e\n\u003cdiv class=\"tab-pane active\" id=\"features\"\u003e\n\u003cdiv class=\"feature-icons\"\u003e\n\u003cimg data-toggle=\"tooltip\" data-placement=\"top\" title=\"\" src=\"https:\/\/www.acs.com.hk\/downloads\/product-device-features\/284-var-pc-linked.png\" alt=\"PC-Linked\" data-original-title=\"PC-Linked\"\u003e \u003cimg data-toggle=\"tooltip\" data-placement=\"top\" title=\"\" src=\"https:\/\/www.acs.com.hk\/downloads\/product-device-features\/214-var-usb.png\" alt=\"USB\" data-original-title=\"USB\"\u003e \u003cimg data-toggle=\"tooltip\" data-placement=\"top\" title=\"\" src=\"https:\/\/www.acs.com.hk\/downloads\/product-device-features\/200-var-contactless.png\" alt=\"Contactless Reader\" data-original-title=\"Contactless Reader\"\u003e \u003cimg data-toggle=\"tooltip\" data-placement=\"top\" title=\"\" src=\"https:\/\/www.acs.com.hk\/downloads\/product-device-features\/211-var-nfc.png\" alt=\"NFC Reader\" data-original-title=\"NFC Reader\"\u003e \u003cimg data-toggle=\"tooltip\" data-placement=\"top\" title=\"\" src=\"https:\/\/www.acs.com.hk\/downloads\/product-device-features\/221-var-sam-slot.png\" alt=\"SAM Slot(s)\" data-original-title=\"SAM Slot(s)\"\u003e \u003cimg data-toggle=\"tooltip\" data-placement=\"top\" title=\"\" src=\"https:\/\/www.acs.com.hk\/downloads\/product-device-features\/282-var-firmware-upgradeable.png\" alt=\"Firmware Upgradeable\" data-original-title=\"Firmware Upgradeable\"\u003e\n\u003c\/div\u003e\n\u003cul\u003e\n\u003cli\u003eUSB 2.0 Full Speed Interface    \u003c\/li\u003e\n\u003cli\u003eCCID Compliance    \u003c\/li\u003e\n\u003cli\u003eUSB Firmware Upgradeability    \u003c\/li\u003e\n\u003cli\u003eSmart Card Reader:    \n\u003cul\u003e\n\u003cli\u003eRead\/write speed up to 424 kbps    \u003c\/li\u003e\n\u003cli\u003eBuilt-in antenna for contactless tag access, with card reading distance of up to 50 mm (depending on tag type)    \u003c\/li\u003e\n\u003cli\u003eSupports ISO 14443 Type A and B cards, MIFARE, FeliCa, and all 4 types of NFC (ISO\/IEC 18092) tags    \u003c\/li\u003e\n\u003cli\u003eSupports MIFARE 7-byte UID, MIFARE Plus and MIFARE DESfire    \u003c\/li\u003e\n\u003cli\u003eBuilt-in anti-collision feature (only 1 tag is accessed at any time)    \u003c\/li\u003e\n\u003cli\u003eOne ISO 7816–compliant SAM slot (Class A)    \u003c\/li\u003e\n\u003cli\u003eNFC Support:    \n\u003cul\u003e\n\u003cli\u003eNFC Reader\/Writer Mode    \u003c\/li\u003e\n\u003cli\u003ePeer-to-Peer Mode    \u003c\/li\u003e\n\u003cli\u003eCard Emulation Mode    \u003c\/li\u003e\n\u003c\/ul\u003e\n\u003c\/li\u003e\n\u003c\/ul\u003e\n\u003c\/li\u003e\n\u003cli\u003eApplication Programming Interface:    \n\u003cul\u003e\n\u003cli\u003eSupports PC\/SC    \u003c\/li\u003e\n\u003cli\u003eSupports CT-API (through wrapper on top of PC\/SC)    \u003c\/li\u003e\n\u003c\/ul\u003e\n\u003c\/li\u003e\n\u003cli\u003ePeripherals:    \n\u003cul\u003e\n\u003cli\u003eUser-controllable bi-color LED    \u003c\/li\u003e\n\u003cli\u003eUser-controllable buzzer    \u003c\/li\u003e\n\u003cli\u003eSAM Slot\u003c\/li\u003e\n\u003c\/ul\u003e\n\u003c\/li\u003e\n\u003c\/ul\u003e\n\u003caside\u003e\n\u003ch3\u003eTechnical Specs\u003c\/h3\u003e\n\u003c\/aside\u003e\n\u003ctable class=\"table table-striped table-condensed table-hover\"\u003e\n\u003ctbody\u003e\n\u003ctr\u003e\n\u003ctd\u003e\u003cb\u003eDimensions\u003c\/b\u003e\u003c\/td\u003e\n\u003ctd\u003e98.0 mm (L) x 65.0 mm (W) x 12.8 mm (H)\u003c\/td\u003e\n\u003c\/tr\u003e\n\u003ctr\u003e\n\u003ctd\u003e\u003cb\u003eWeight\u003c\/b\u003e\u003c\/td\u003e\n\u003ctd\u003e81.0 g\u003c\/td\u003e\n\u003c\/tr\u003e\n\u003ctr\u003e\n\u003ctd\u003e\u003cb\u003eCompliance \/ Certifications\u003c\/b\u003e\u003c\/td\u003e\n\u003ctd\u003e\n\u003cul\u003e\n\u003cli\u003eISO 18092, ISO 14443, ISO 7816,  NFC Forum, FeliCa Performance Certification, PC\/SC, CCID, LASCOM, EN60950\/IEC 60950, CE, FCC, VCCI, MIC, KC, RoHS 2, USB Full Speed, Microsoft® WHQL\u003c\/li\u003e\n\u003c\/ul\u003e\n\u003c\/td\u003e\n\u003c\/tr\u003e\n\u003ctr\u003e\n\u003ctd\u003e\u003cb\u003eInterface\u003c\/b\u003e\u003c\/td\u003e\n\u003ctd\u003eUSB 2.0 Full Speed\u003c\/td\u003e\n\u003c\/tr\u003e\n\u003ctr\u003e\n\u003ctd\u003e\u003cb\u003eOperating Distance\u003c\/b\u003e\u003c\/td\u003e\n\u003ctd\u003eUp to 50 mm (depends on the tag type)\u003c\/td\u003e\n\u003c\/tr\u003e\n\u003ctr\u003e\n\u003ctd\u003e\u003cb\u003eSupply Voltage\u003c\/b\u003e\u003c\/td\u003e\n\u003ctd\u003eRegulated 5V DC\u003c\/td\u003e\n\u003c\/tr\u003e\n\u003ctr\u003e\n\u003ctd\u003e\u003cb\u003eSupply Current\u003c\/b\u003e\u003c\/td\u003e\n\u003ctd\u003eMax. 200mA\u003c\/td\u003e\n\u003c\/tr\u003e\n\u003ctr\u003e\n\u003ctd\u003e\u003cb\u003eOperating Temperature\u003c\/b\u003e\u003c\/td\u003e\n\u003ctd\u003e0-50 °C\u003c\/td\u003e\n\u003c\/tr\u003e\n\u003ctr\u003e\n\u003ctd\u003e\u003cb\u003eOperating Frequency\u003c\/b\u003e\u003c\/td\u003e\n\u003ctd\u003e13.56 MHz\u003c\/td\u003e\n\u003c\/tr\u003e\n\u003ctr\u003e\n\u003ctd\u003e\u003cb\u003eSmart Card Interface Support\u003c\/b\u003e\u003c\/td\u003e\n\u003ctd\u003e\n\u003cul\u003e\n\u003cli\u003eISO 14443 Type A \u0026amp; B\u003c\/li\u003e\n\u003cli\u003eMIFARE\u003c\/li\u003e\n\u003cli\u003eFeliCa\u003c\/li\u003e\n\u003cli\u003e4 types of NFC (ISO\/IEC 18092) tags\u003c\/li\u003e\n\u003c\/ul\u003e\n\u003c\/td\u003e\n\u003c\/tr\u003e\n\u003ctr\u003e\n\u003ctd\u003e\u003cb\u003eOperating System Support\u003c\/b\u003e\u003c\/td\u003e\n\u003ctd\u003e\n\u003cul\u003e\n\u003cli\u003eWindows®\u003c\/li\u003e\n\u003cli\u003eLinux®\u003c\/li\u003e\n\u003cli\u003eMac OS®\u003c\/li\u003e\n\u003cli\u003eAndroid™ 3.1 and above\u003c\/li\u003e\n\u003c\/ul\u003e\n\u003c\/td\u003e\n\u003c\/tr\u003e\n\u003c\/tbody\u003e\n\u003c\/table\u003e\n\u003cp\u003e \u003c\/p\u003e\n\u003caside\u003e\n\u003ch3\u003ePrimary Applications\u003c\/h3\u003e\n\u003cul\u003e\n\u003cli\u003ee-Government\u003c\/li\u003e\n\u003cli\u003eBanking \u0026amp; Payment\u003c\/li\u003e\n\u003cli\u003ee-Healthcare\u003c\/li\u003e\n\u003cli\u003eAccess Control\u003c\/li\u003e\n\u003cli\u003eNetwork Security\u003c\/li\u003e\n\u003cli\u003ee-Purse \u0026amp; Loyalty\u003c\/li\u003e\n\u003cli\u003eTransportation\u003c\/li\u003e\n\u003cli\u003eSmart Poster\u003c\/li\u003e\n\u003cli\u003eP2P Communication\u003c\/li\u003e\n\u003c\/ul\u003e\n\u003c\/aside\u003e\n\u003cp\u003e \u003c\/p\u003e\n\u003c\/div\u003e","published_at":"2017-07-08T14:35:23+08:00","created_at":"2017-07-08T15:00:59+08:00","vendor":"ACS","type":"RFID\/NFC Reader","tags":["BRAND_ACS","BUNDLE_DEVICE ONLY","CAPABILITY_READ \u0026 WRITE","CAPACITY_0 TO 10CM READING","FREQUENCY_HF 13.56MHZ","TYPE_RFID READER"],"price":456000,"price_min":456000,"price_max":456000,"available":true,"price_varies":false,"compare_at_price":null,"compare_at_price_min":0,"compare_at_price_max":0,"compare_at_price_varies":false,"variants":[{"id":40112617609,"title":"Default Title","option1":"Default Title","option2":null,"option3":null,"sku":"ACR1252U","requires_shipping":true,"taxable":true,"featured_image":null,"available":true,"name":"ACS ACR1252U USB NFC Reader III (NFC Forum Certified Reader)","public_title":null,"options":["Default Title"],"price":456000,"weight":100,"compare_at_price":null,"inventory_quantity":73,"inventory_management":"shopify","inventory_policy":"deny","barcode":"","requires_selling_plan":false,"selling_plan_allocations":[]}],"images":["\/\/cdn.shopify.com\/s\/files\/1\/2077\/8243\/products\/ACR1252U.jpg?v=1499497281"],"featured_image":"\/\/cdn.shopify.com\/s\/files\/1\/2077\/8243\/products\/ACR1252U.jpg?v=1499497281","options":["Title"],"media":[{"alt":null,"id":239688974359,"position":1,"preview_image":{"aspect_ratio":1.0,"height":500,"width":500,"src":"https:\/\/cdn.shopify.com\/s\/files\/1\/2077\/8243\/products\/ACR1252U.jpg?v=1499497281"},"aspect_ratio":1.0,"height":500,"media_type":"image","src":"https:\/\/cdn.shopify.com\/s\/files\/1\/2077\/8243\/products\/ACR1252U.jpg?v=1499497281","width":500}],"requires_selling_plan":false,"selling_plan_groups":[],"content":"The ACR1252U USB NFC Reader III is an NFC Forum-certified PC-linked reader, developed based on 13.56Mhz contactless technology. It has a SAM (Secure Access Module) slot which can be used together with a SAM card for key diversification and mutual authentication, providing high-level security in contactless transactions. Post-deployment firmware upgrade is also supported, eliminating the need for additional hardware modification.\n\u003ch4\u003eACS ACR1252U USB NFC Reader III (NFC Forum Certified Reader)\u003c\/h4\u003e\n\u003cp\u003eACR1252U is capable of the three modes of NFC, namely: card reader\/writer, card emulation and peer-to-peer communication. It supports ISO 14443 Type A and B cards, MIFARE®, FeliCa, and ISO 18092–compliant NFC tags. It also supports other NFC devices with an access speed of up to 424 Kbps and proximity operating distance of up to 50mm (depending on tag type used).\u003cbr\u003e\u003cbr\u003eCompliant with both CCID and PC\/SC, this plug-and-play USB NFC device allows interoperability with different devices and applications. It is thus ideal for unconventional marketing and advertising applications like smart posters.\u003cbr\u003e\u003cbr\u003eThe ACR1252U comes with an optional stand to hold the smart card reader at an optimal angle, so that users can tap contactless cards or NFC-enabled devices onto the ACR1252U with ease.\u003c\/p\u003e\n\u003cp\u003e\u003cimg style=\"display: block; margin-left: auto; margin-right: auto;\" src=\"http:\/\/www.acs.com.hk\/downloads\/images\/pages\/ACR1252-M1_250x250_left_app.png\" alt=\"ACR1252-M1_250x250_left_app\"\u003e\u003cbr\u003e\u003cstrong\u003eFeatures\u003c\/strong\u003e\u003c\/p\u003e\n\u003cdiv class=\"tab-pane active\" id=\"features\"\u003e\n\u003cdiv class=\"feature-icons\"\u003e\n\u003cimg data-toggle=\"tooltip\" data-placement=\"top\" title=\"\" src=\"https:\/\/www.acs.com.hk\/downloads\/product-device-features\/284-var-pc-linked.png\" alt=\"PC-Linked\" data-original-title=\"PC-Linked\"\u003e \u003cimg data-toggle=\"tooltip\" data-placement=\"top\" title=\"\" src=\"https:\/\/www.acs.com.hk\/downloads\/product-device-features\/214-var-usb.png\" alt=\"USB\" data-original-title=\"USB\"\u003e \u003cimg data-toggle=\"tooltip\" data-placement=\"top\" title=\"\" src=\"https:\/\/www.acs.com.hk\/downloads\/product-device-features\/200-var-contactless.png\" alt=\"Contactless Reader\" data-original-title=\"Contactless Reader\"\u003e \u003cimg data-toggle=\"tooltip\" data-placement=\"top\" title=\"\" src=\"https:\/\/www.acs.com.hk\/downloads\/product-device-features\/211-var-nfc.png\" alt=\"NFC Reader\" data-original-title=\"NFC Reader\"\u003e \u003cimg data-toggle=\"tooltip\" data-placement=\"top\" title=\"\" src=\"https:\/\/www.acs.com.hk\/downloads\/product-device-features\/221-var-sam-slot.png\" alt=\"SAM Slot(s)\" data-original-title=\"SAM Slot(s)\"\u003e \u003cimg data-toggle=\"tooltip\" data-placement=\"top\" title=\"\" src=\"https:\/\/www.acs.com.hk\/downloads\/product-device-features\/282-var-firmware-upgradeable.png\" alt=\"Firmware Upgradeable\" data-original-title=\"Firmware Upgradeable\"\u003e\n\u003c\/div\u003e\n\u003cul\u003e\n\u003cli\u003eUSB 2.0 Full Speed Interface    \u003c\/li\u003e\n\u003cli\u003eCCID Compliance    \u003c\/li\u003e\n\u003cli\u003eUSB Firmware Upgradeability    \u003c\/li\u003e\n\u003cli\u003eSmart Card Reader:    \n\u003cul\u003e\n\u003cli\u003eRead\/write speed up to 424 kbps    \u003c\/li\u003e\n\u003cli\u003eBuilt-in antenna for contactless tag access, with card reading distance of up to 50 mm (depending on tag type)    \u003c\/li\u003e\n\u003cli\u003eSupports ISO 14443 Type A and B cards, MIFARE, FeliCa, and all 4 types of NFC (ISO\/IEC 18092) tags    \u003c\/li\u003e\n\u003cli\u003eSupports MIFARE 7-byte UID, MIFARE Plus and MIFARE DESfire    \u003c\/li\u003e\n\u003cli\u003eBuilt-in anti-collision feature (only 1 tag is accessed at any time)    \u003c\/li\u003e\n\u003cli\u003eOne ISO 7816–compliant SAM slot (Class A)    \u003c\/li\u003e\n\u003cli\u003eNFC Support:    \n\u003cul\u003e\n\u003cli\u003eNFC Reader\/Writer Mode    \u003c\/li\u003e\n\u003cli\u003ePeer-to-Peer Mode    \u003c\/li\u003e\n\u003cli\u003eCard Emulation Mode    \u003c\/li\u003e\n\u003c\/ul\u003e\n\u003c\/li\u003e\n\u003c\/ul\u003e\n\u003c\/li\u003e\n\u003cli\u003eApplication Programming Interface:    \n\u003cul\u003e\n\u003cli\u003eSupports PC\/SC    \u003c\/li\u003e\n\u003cli\u003eSupports CT-API (through wrapper on top of PC\/SC)    \u003c\/li\u003e\n\u003c\/ul\u003e\n\u003c\/li\u003e\n\u003cli\u003ePeripherals:    \n\u003cul\u003e\n\u003cli\u003eUser-controllable bi-color LED    \u003c\/li\u003e\n\u003cli\u003eUser-controllable buzzer    \u003c\/li\u003e\n\u003cli\u003eSAM Slot\u003c\/li\u003e\n\u003c\/ul\u003e\n\u003c\/li\u003e\n\u003c\/ul\u003e\n\u003caside\u003e\n\u003ch3\u003eTechnical Specs\u003c\/h3\u003e\n\u003c\/aside\u003e\n\u003ctable class=\"table table-striped table-condensed table-hover\"\u003e\n\u003ctbody\u003e\n\u003ctr\u003e\n\u003ctd\u003e\u003cb\u003eDimensions\u003c\/b\u003e\u003c\/td\u003e\n\u003ctd\u003e98.0 mm (L) x 65.0 mm (W) x 12.8 mm (H)\u003c\/td\u003e\n\u003c\/tr\u003e\n\u003ctr\u003e\n\u003ctd\u003e\u003cb\u003eWeight\u003c\/b\u003e\u003c\/td\u003e\n\u003ctd\u003e81.0 g\u003c\/td\u003e\n\u003c\/tr\u003e\n\u003ctr\u003e\n\u003ctd\u003e\u003cb\u003eCompliance \/ Certifications\u003c\/b\u003e\u003c\/td\u003e\n\u003ctd\u003e\n\u003cul\u003e\n\u003cli\u003eISO 18092, ISO 14443, ISO 7816,  NFC Forum, FeliCa Performance Certification, PC\/SC, CCID, LASCOM, EN60950\/IEC 60950, CE, FCC, VCCI, MIC, KC, RoHS 2, USB Full Speed, Microsoft® WHQL\u003c\/li\u003e\n\u003c\/ul\u003e\n\u003c\/td\u003e\n\u003c\/tr\u003e\n\u003ctr\u003e\n\u003ctd\u003e\u003cb\u003eInterface\u003c\/b\u003e\u003c\/td\u003e\n\u003ctd\u003eUSB 2.0 Full Speed\u003c\/td\u003e\n\u003c\/tr\u003e\n\u003ctr\u003e\n\u003ctd\u003e\u003cb\u003eOperating Distance\u003c\/b\u003e\u003c\/td\u003e\n\u003ctd\u003eUp to 50 mm (depends on the tag type)\u003c\/td\u003e\n\u003c\/tr\u003e\n\u003ctr\u003e\n\u003ctd\u003e\u003cb\u003eSupply Voltage\u003c\/b\u003e\u003c\/td\u003e\n\u003ctd\u003eRegulated 5V DC\u003c\/td\u003e\n\u003c\/tr\u003e\n\u003ctr\u003e\n\u003ctd\u003e\u003cb\u003eSupply Current\u003c\/b\u003e\u003c\/td\u003e\n\u003ctd\u003eMax. 200mA\u003c\/td\u003e\n\u003c\/tr\u003e\n\u003ctr\u003e\n\u003ctd\u003e\u003cb\u003eOperating Temperature\u003c\/b\u003e\u003c\/td\u003e\n\u003ctd\u003e0-50 °C\u003c\/td\u003e\n\u003c\/tr\u003e\n\u003ctr\u003e\n\u003ctd\u003e\u003cb\u003eOperating Frequency\u003c\/b\u003e\u003c\/td\u003e\n\u003ctd\u003e13.56 MHz\u003c\/td\u003e\n\u003c\/tr\u003e\n\u003ctr\u003e\n\u003ctd\u003e\u003cb\u003eSmart Card Interface Support\u003c\/b\u003e\u003c\/td\u003e\n\u003ctd\u003e\n\u003cul\u003e\n\u003cli\u003eISO 14443 Type A \u0026amp; B\u003c\/li\u003e\n\u003cli\u003eMIFARE\u003c\/li\u003e\n\u003cli\u003eFeliCa\u003c\/li\u003e\n\u003cli\u003e4 types of NFC (ISO\/IEC 18092) tags\u003c\/li\u003e\n\u003c\/ul\u003e\n\u003c\/td\u003e\n\u003c\/tr\u003e\n\u003ctr\u003e\n\u003ctd\u003e\u003cb\u003eOperating System Support\u003c\/b\u003e\u003c\/td\u003e\n\u003ctd\u003e\n\u003cul\u003e\n\u003cli\u003eWindows®\u003c\/li\u003e\n\u003cli\u003eLinux®\u003c\/li\u003e\n\u003cli\u003eMac OS®\u003c\/li\u003e\n\u003cli\u003eAndroid™ 3.1 and above\u003c\/li\u003e\n\u003c\/ul\u003e\n\u003c\/td\u003e\n\u003c\/tr\u003e\n\u003c\/tbody\u003e\n\u003c\/table\u003e\n\u003cp\u003e \u003c\/p\u003e\n\u003caside\u003e\n\u003ch3\u003ePrimary Applications\u003c\/h3\u003e\n\u003cul\u003e\n\u003cli\u003ee-Government\u003c\/li\u003e\n\u003cli\u003eBanking \u0026amp; Payment\u003c\/li\u003e\n\u003cli\u003ee-Healthcare\u003c\/li\u003e\n\u003cli\u003eAccess Control\u003c\/li\u003e\n\u003cli\u003eNetwork Security\u003c\/li\u003e\n\u003cli\u003ee-Purse \u0026amp; Loyalty\u003c\/li\u003e\n\u003cli\u003eTransportation\u003c\/li\u003e\n\u003cli\u003eSmart Poster\u003c\/li\u003e\n\u003cli\u003eP2P Communication\u003c\/li\u003e\n\u003c\/ul\u003e\n\u003c\/aside\u003e\n\u003cp\u003e \u003c\/p\u003e\n\u003c\/div\u003e"}
ACS ACR1252U USB NFC Reader III (NFC Forum Certified Reader)
ACS ACR1252U USB NFC Reader III (NFC Forum Certified Reader)
ACS ACR1252U USB NFC Reader III (NFC Forum Certified Reader)
ACR1252U is capable of the three modes of NFC, namely: card reader/writer, card emulation and peer-to-peer communication. It supports ISO 14443 Type A and B cards, MIFARE®, FeliCa, and ISO 18092–compliant NFC tags. It also supports other NFC devices with an access speed of up to 424 Kbps and proximity operating distance of up to 50mm (depending on tag type used).

Compliant with both CCID and PC/SC, this plug-and-play USB NFC device allows interoperability with different devices and applications. It is thus ideal for unconventional marketing and advertising applications like smart posters.

The ACR1252U comes with an optional stand to hold the smart card reader at an optimal angle, so that users can tap contactless cards or NFC-enabled devices onto the ACR1252U with ease.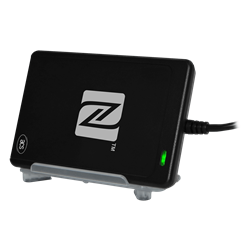 Features
USB 2.0 Full Speed Interface    
CCID Compliance    
USB Firmware Upgradeability    
Smart Card Reader:    

Read/write speed up to 424 kbps    
Built-in antenna for contactless tag access, with card reading distance of up to 50 mm (depending on tag type)    
Supports ISO 14443 Type A and B cards, MIFARE, FeliCa, and all 4 types of NFC (ISO/IEC 18092) tags    
Supports MIFARE 7-byte UID, MIFARE Plus and MIFARE DESfire    
Built-in anti-collision feature (only 1 tag is accessed at any time)    
One ISO 7816–compliant SAM slot (Class A)    
NFC Support:    

NFC Reader/Writer Mode    
Peer-to-Peer Mode    
Card Emulation Mode    

Application Programming Interface:    

Supports PC/SC    
Supports CT-API (through wrapper on top of PC/SC)    

Peripherals:    

User-controllable bi-color LED    
User-controllable buzzer    
SAM Slot
Dimensions
98.0 mm (L) x 65.0 mm (W) x 12.8 mm (H)
Weight
81.0 g
Compliance / Certifications

ISO 18092, ISO 14443, ISO 7816,  NFC Forum, FeliCa Performance Certification, PC/SC, CCID, LASCOM, EN60950/IEC 60950, CE, FCC, VCCI, MIC, KC, RoHS 2, USB Full Speed, Microsoft® WHQL

Interface
USB 2.0 Full Speed
Operating Distance
Up to 50 mm (depends on the tag type)
Supply Voltage
Regulated 5V DC
Supply Current
Max. 200mA
Operating Temperature
0-50 °C
Operating Frequency
13.56 MHz
Smart Card Interface Support

ISO 14443 Type A & B
MIFARE
FeliCa
4 types of NFC (ISO/IEC 18092) tags

Operating System Support

Windows®
Linux®
Mac OS®
Android™ 3.1 and above
You have two convenient ways to buy our products.

Online - Easy, Quick and Secure.

Offline - Dedicated Account Executive to assist you through.

Online buying steps.
STEP 1 - ADD TO CART
Choose the item you are interested.

Click "Add to cart"  to place your selection in the cart.
STEP 2 - CHECK OUT

Click "Continue shopping" if you are adding more products to your cart.

Click "Check out" if you are ready to proceed buying.
STEP 3 - YOUR INFORMATION

Fill in the customer information form.
STEP 4 - SHIPPING
Tick "Office pick up" if you will visit our office (free) to pick up your order.

Tick "Ship to my Address" (Auto Calculated Charge) if you wanted it delivered to your address.
STEP 5 - PAYMENT
Tick " Paypal" if you are paying using credit cards or Paypal itself.

Tick "COD" or "Bank Deposit" if you will pick up your order in our office, or your delivery address is in Metro Manila.

Tick "Bank Deposit" if you will deposit your payment to BDO or BPI.

Tick "Remittance, Padala, or Bayad Center" if you are sending your payment through LBC, Palawan, Cebuanna, MLuillier

STEP 6 - CONFIRM ORDER - Click this to confirm your order.
You will then received an automated E-mail Confirmation.

Another e-mail about the delivery of your orders.
STEP 7 - SEND PAYMENT RECEIPT - This only applicable if you are paying through banks and remittance centers.

Offline Buying - A dedicated Account Executive will get in touch with you if you do any of following below.
Fill the Contact form.
Call us on any of the numbers available here.

Send us an Email at hello@ccs.com.ph

Message us on Facebook.

Visit our office, click here for

address.

Note: For those who are applying to be our dealer, please send us a inquiry as stated on Offline Buying.
What makes us different from other sellers is our unparalleled customer service and optimum technical assistance. Buying any of our products online or offline, entitled you for *unlimited support (Email/Chat) while the product is under warranty.

Imagine buying a cheaper RFID Reader or Finger print Scanner or other devices from an online market place where you don't know the seller is? Countless e-mail to request support but no reply, the thing is they may not even know how the products they are selling work.

The same true when buying from an overseas seller, it maybe cheaper but how would you request for support or what if you received it defective? That would be too bad, hope you can still return your purchases.

With Competitive Card Solutions you are sure that your request for technical assistance is to be taken care of, not just by any one but by our Technical Support Engineer, expert in the product you have bought, and that we are in constant communication with the manufacturer in case your concern is not supportable in our level.

So enjoy and feel confident shopping with us. Any concern please send us an email to hello@ccs.com.ph or chat with us.
Don't just take it from us, see what our customers are saying.

Carlo Consulta rated response from Kim Joshua Guzman.
Wow! You just made our day!

" This is the second time I've been assisted by Mr. Guzman, so far all of my concern have been immediately attended and resolved, and kudos to the rest of the CCS team that assisted me , "Aibie", "Mac" , "Kim" ,"Angelica" Thanks! Sincerely, Carlo Consulta Asian Ring Point Marketing Inc. "

Dave Devera rated response from Julius Beltran.
Wow! You just made our day!

" thank you for the support muy bien! "

Selyn Flores rated response from Kim Joshua Guzman.
Wow! You just made our day!

" I really appreciate the assistance of Sir Nole and Kim Joshua. "